The blog is back! Sorry for the long summer hiatus, but it's paid off for me—I finished the first draft of FBI K-9s book #2, BEFORE IT'S TOO LATE, this past weekend. *throws confetti* *collapses*
So what are Ann and I up to, writing-wise? Let's go down the list:
LONE WOLF:

FBI K-9s book #1 will release in eBook on November 29th and hardcopies will be in bookstores and beyond on that date or very shortly thereafter. I'll be holding a launch right around that time, most likely at A Different Drummer Books in Burlington, but possibly an early release the preceding weekend. More details on that hopefully in the next few weeks. At this point, LONE WOLF hard copy ARCs are out and are being sent to our early readers, bloggers, and reviewers. For the first time, as a part of Kensington, copies of the books will be available on NetGalley, so some of our readers have arranged to get their copies digitally. And last week, we were pleased to see the blurb for the book from Leo J. Maloney, author of the Dan Morgan series, including ARCH ENEMY—"Tense and exciting, Sara Driscoll has created a new power couple, Meg and her FBI K-9, Hawk."

BEFORE IT'S TOO LATE:

As I stated before, the first draft of this book is now complete, coming in at just under 80,000 words. This is a great length for a thriller—it gives us room to still add a little more as we edit, and it also leave us room for chapter titles and definitions. What's the theme this time? We're 99% sure we know what it is, but that will get solidified within the next two weeks. We'll edit from now until the end of the September. October 1st sees the manuscript going out to our amazing critique team (thank you Jenny, Lisa, Sharon, and Rick!). They'll have the book for 2 weeks and then that leaves us about 4 weeks to put the final touches on it. The book is officially due on December 1st, but with LONE WOLF coming out on November 29th, it realistically needs to be done about 2 weeks early so we can keep all the balls in the air.

FBI K-9s

(Welcome to the real world of publishing, part one): Ann and I were very sad to find out recently that our Kensington Editor, the wonderful Peter Senftleben, was leaving the company to become a mysteries, suspense and thriller editor at Crooked Lane. We're so very grateful to Peter for buying the three-book series, and very much enjoyed working with him and will definitely miss him. Peter, of course, has left us in very capable hands for the remainder of the series, so onwards and upwards.

Abbott and Lowell Forensic Mysteries

(Welcome to the real world of publishing, part two): I've had many questions about the next book in the Abbott and Lowell series, LAMENT THE COMMON BONES. Readers knew we were writing it last year but there has yet to be an announcement about its release date. Well, we've got some bad news there. Our editor at Five Star definitely wanted the book, but before it was officially purchased, Five Star closed out their mystery line and is going strictly with westerns from now on. So the book has been orphaned. At this point, I'm not exactly sure what's going to happen with it. It's extremely difficult to sell the fifth book in a series, but our agent is working on it. But never fear, dear readers, the worst case scenario is that we'll self-publish, definitely in eBook format and most likely in print as well. The book will get out one way or another—it's the end of the big arc that started in A FLAME IN THE WIND OF DEATH and continued through TWO PARTS BLOODY MURDER, so we'd be doing a huge disservice to our readers if we didn't release it. So stay tuned for more news to come here.
To celebrate the upcoming launch of LONE WOLF, Kensington is holding our first Goodreads giveaway starting today! You can find it below. Be sure to enter for your chance to win an early copy months before it actually releases!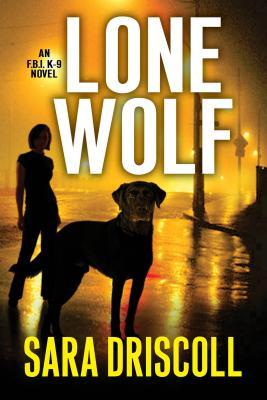 Enter Giveaway
We'll be back next week with the first of our K-9 posts, so please join us!